Fur that's soft as silk.
Dog owners can forget the hassle of scheduling an appointment to bring their pup to the pet groomers for the day. With this innovative Dog brush for shedding, you can eliminate the knots and the hair while getting that beautifully smooth and healthy groomed look you want. A dog lover's dream when it comes to getting what you need and what they want. Enjoy pampering your pet at home while saving both time and money and keeping the fur off the floor and your clothes.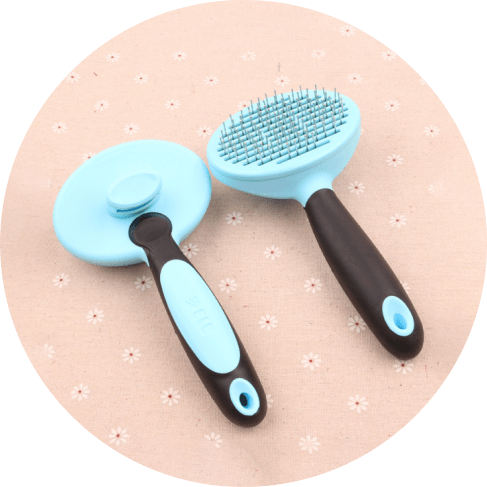 Save money while you pamper your pups
New and improved grooming experience for pets.
Self-cleaning dog shedding brush
Avoid the time-consuming hassle of cleaning out every last hair from those traditional grooming brushes. Get the easy one that cleans itself with a push of a button.
Easy grooming at home
An innovative brush head with lots of bristles to capture hair so it does not land on your clothes or floors. Never leaves a mess & massages for healthy blood circulation.
Highest quality & durability
Pet grooming brush made of highly durable, stainless steel teeth that won't bend or break and will last a long time.
Easy to store or carry
This one-handed self-cleaning brush measures 3.54″ x 7″ and is a perfect size to carry in your purse, your car, or at home.
A win-win for both of you
This newly upgraded designed pet grooming brush removes the bothersome hairy knots that can be annoying to pets. It is perfect for collecting extra fur, so it doesn't fly all over the place, and is super easy to clean after you brush them. Grooming your pet has never been easier & that's why pet lovers are going crazy over this innovative one-handed self-cleaning pet brush. That's right, no more having to wash your hands every time you want to groom your pet. All the hair comes off the brush with just the press of a button. Never get fur on your clothes, floors, or hands again when bonding with your pet. Enjoy the incredible comfort and convenience for you and your pets.