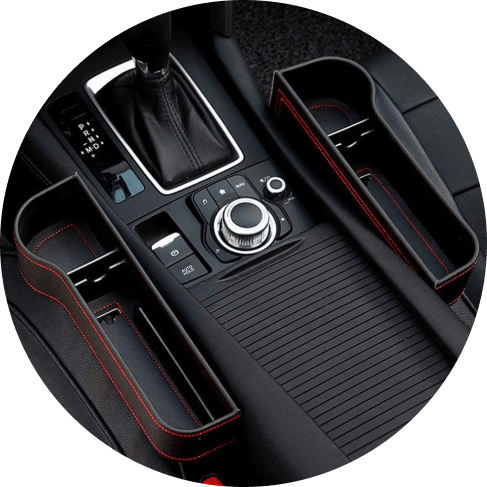 Genius Front Seat Car Organizer!
You spend a lot of time in your car because, well, you're a busy parent. From dropping off the kids at daycare or soccer practice or picking up dinner on the way home, you log a lot of hours behind the wheel. And when you're not alone in the car, there's often something that requires your undivided attention (when your eyes should really be on the road). Someone needs napkins. Someone needs a charger cord. Oh, and you can't find your lipstick to touch up.
Get Organized with Ease
Keep essentials within reach
Stop The Mess
Get your sanity back
No more mess behind the wheel with our Set of Multifunctional Car Seat Organizers. They measure 11″ x 6.5 " x 3″ & accommodate all your needs: Pens, tumblers, note pads, smartphones, and charging cords. Everything fits into one solid storage solution. Discover a cleaner car interior today. Free up clutter from your cup holders and provide a safe space for your passengers as well.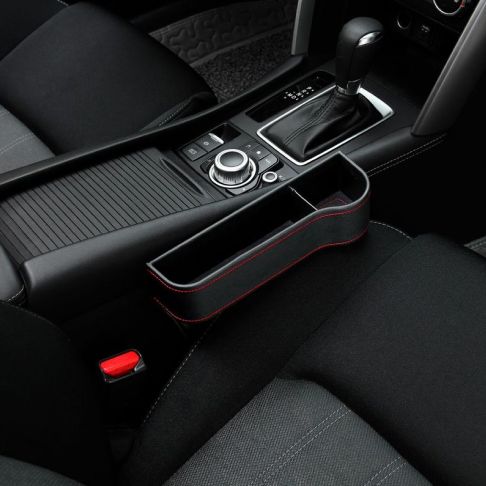 3 -in-One Car Organizer
Declutter the front seat today
Finally, the 3-in-one handy storage, drink holder & organizer for sealing the cracks of doom between the front seats and center consoles are here. You get two of our Multifunctional Car Seat Organizers(driver & passenger side oriented) It's a smart way to integrate storage space for both you and your passengers.
Premium Quality & Multifunctional
Our Multifunctional Car Seat Organizer fits into the space between your car seat and center console for an out-of-the-way storage accessory that also is conveniently within reach. Our Multifunctional Car Seat Organizer features a coin holder, a curved spot to hold a tumbler or drink, and even built-in ports to facilitate the flow of charger cables for devices. Plus, a luxe black, expert-crafted PU leather design (with visible red stitching detail) adds a stylish touch that blends into just about any car interior. Above all, our organizer is easy to install: just insert it into the space between your seat and center console — no drills or attachment clips are required. It's a Premium Quality Smart Solution to help tidy up any ride.
Double up on help
Hey, the front-seat passenger needs some love too. That's why our set provides you with both the left & right-side-oriented organizers. Our 3-in-1 Multifunctional Car Seat Organizers provide more comfort and safety behind the wheel. Time to upgrade your vehicle and seal those cracks & avoid losing money, keys, & other everyday items.