Who says you can't Teach an Old Dog New Tricks?
Dog owners are going crazy over this unique fun toy. Dont take our word for it, see what our happy customers are saying. "The best toy dog lovers can buy – money well spent!" OMG every Dog Owner needs to get not just one but two of these water fountains today!" "This amazing Dog Water Fountain brings a new, fun, explorative way for your pooch to quench its thirst." No more hoping and praying your pup's bowl of water stays cool and clean all day out in the yard. The backyard water dog toy of the year is here! Dogs love learning and when it comes to keeping cool and hydrated, this unique fun toy is an easy way for them to get their H2O whenever they need it.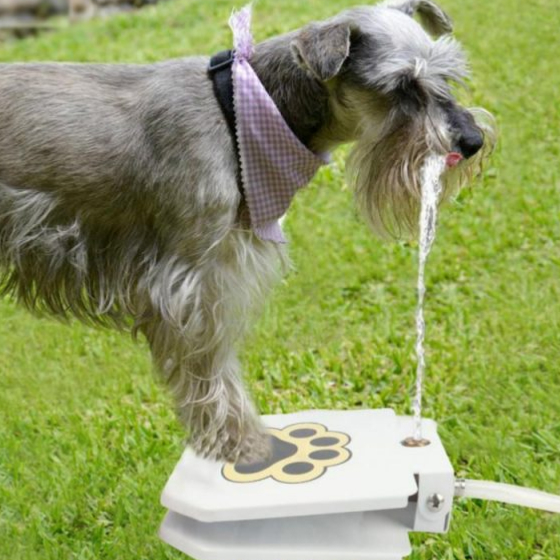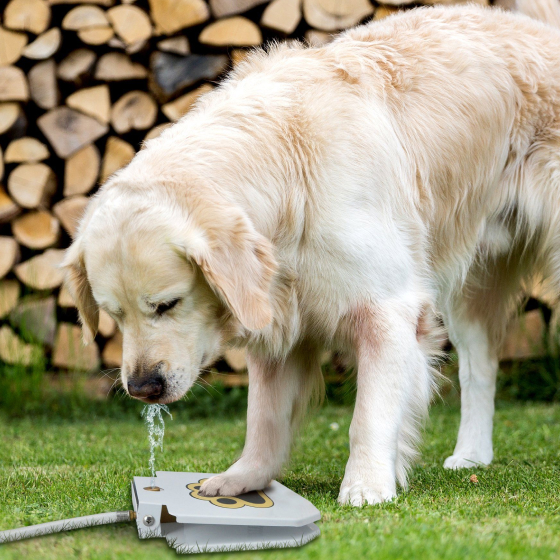 Train with Ease
Teach your dog to step onto the printed-paw pattern of the water fountain to dispense water. Each purchase includes some training instructions you can follow to ease your pooch into using the fountain. With time, he or she will be stepping on the fountain pedal naturally for a sip of water!
Control the Flow
Dog Lovers have complete control of the water pressure while train your pooch to use the Outdoor Water Fountain. Also included is a two-way splitter attachment so you can use your everyday garden hose and the automatic outdoor water fountain at the same time.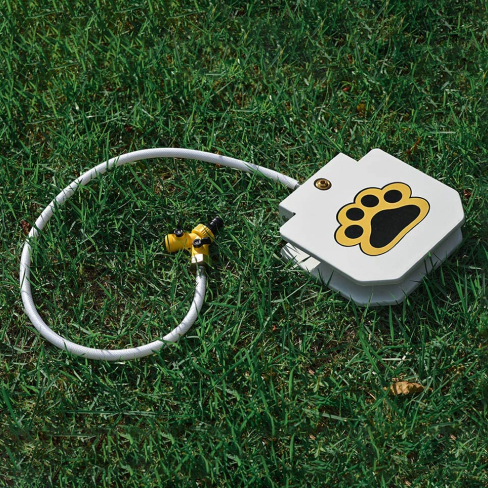 Built to Last
Our hydrating dog water fountain is made of heavy-gauge steel with a copper valve to prevent leakage. The paw-print durable steel pedal plate has rubber friction pads underneath to help reduce skid or movement on either grass or concrete surfaces. The attached durable hose is 3′ 9″ long and comes with a handy two-way splitter for keeping your everyday garden hose attached 100% of the time so you are never without it.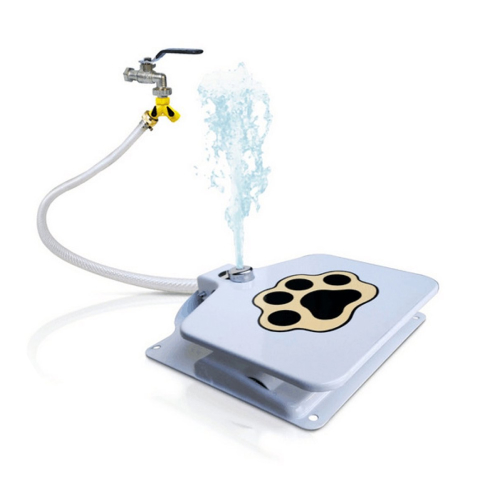 No Power Required- Just Fun in The Sun
No batteries! No Wires! No Plugs!
TWO SIMPLE STEPS
1. Screw the hose into the two-way splitter, or directly onto your water valve
2. Turn it on and let your pup have all the fun.