Eco-Friendly Safe Solution
Due to the state of the environment today, we can no longer use plastic straws as they are harmful to sea turtles, so help make the switch today and level up to the #1 rated premium reusable silicone drinking straws for adults, kids, and toddlers. A FREE carrying case and cleaning tool are included with each set of 3 Silicone Straws to bring with you anywhere you go conveniently. Parents love that they don't get hot or cold with use, won't chip any teeth, and when it accidentally goes up one's nose, it won't hurt like metal straws do.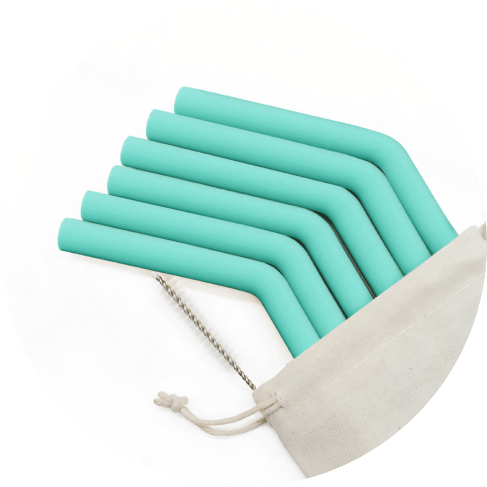 Why Silicone Straws?
Perfect for cold and hot drinks
Forget about scalding hot metal straws that are unusable with your tea and coffee! Our silicone straws don't get icy cold or hot when you put them in your drinks. That's science, baby!
Great for most liquid containers
Our straws measure 9.8″ x 0.4″ and are adjustable. Long enough for 32″ tumblers, Smoothies, & regular drinking glasses. Since the straws are adjustable – cut them to your desired length and drink up.
Easy to clean and carry
FREE special straw-cleaning brush and carrying case to clean even while on the go
100% safe
We take great care to make sure all our products are 100% safe. For example, all our straws are FDA-approved and BPA-free.
Reusable Silicone Straws
Say goodbye to plastic straws for good and carry with you on the go and great for both alcoholic and non-alcoholic beverages. Soft construction makes our drinking straws an excellent choice for the entire family.
Please note: Each order comes with three sets of straws (6 pieces) with a free cleaning brush and carrying case.
Carry with you (free cotton bag provided) simply using in place of the disposable straws. Safe for use with cold and hot beverages and wont change temperature. Easy to clean both on the go using your free cleaning tool or at home as they are dishwasher safe.